How to Perform a Thorough Photo Analysis
When looking at the photographs, describe 4 aspects of the picture, and ask yourself 2 questions. Then determine what else you'd like to
know.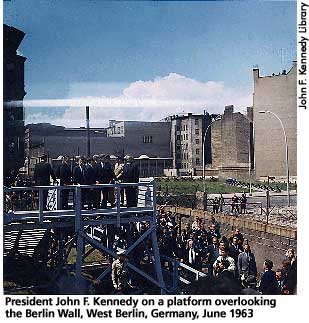 Subject

(Describe the people or objects: gender, age, clothing, facial expressions, position, physical features)

Ex-president John F. Kennedy is standing on a platform. Several men surround him. Several more stand under and around the platform. Kennedy appears to be observing them. Some are looking up.Many wear suits. One man holds a camera. Soldiers stand in the foreground and background, holding guns.




Setting

(Is it indoor/outdoor? urban/rural? Identify the time of day,

time of year, and any background object


Outdoors, during the day, maybe afternoon. Probably in spring or fall based on the clothing worn. Damaged buildings and a wall are in the background.

Action

(What activity/event is shown? What are people doing? Are they working in groups or alone? What is their relationship to each other?)

Kennedy and the men with him are looking out at the Berlin Wall. The soldiers are guarding the wall. The spectators are looking up at Kennedy - maybe he is going to speak.

Other Clues

(What other details do you see in the photo? Examples: tools, vehicles, animals, buildings, signs. Is it a candid or posed photo?)

Photo appears to be candid, though photographers are present so the event was clearly planned. Streetlights, barbed wire fence, and an empty lot also appear in the background.
Is there a caption or title? What information does it give you?
The caption tells me this is a photo of Kennedy in Berlin in 1963, and that he is standing on a platform overlooking the Berlin Wall.
What can you infer about the subject from looking at the photograph?
Something important must have happened at or having to do with the Berlin Wall. Relations between the US and Germany were probably affected, because Kennedy traveled to Germany to address it.
What questions are you left with?
What is / was the Berlin Wall, and why was it important??
THIS LAST QUESTION WILL BE THE BASIS FOR YOUR RESEARCH!